A website is a necessary medium to spread your words and to promote your business. So, what do you need to build a website? Before you choose a host, the first thing that comes to your mind is a perfect CMS or content management system. A CMS works like a website builder. There're many CMS available. WordPress is one of those CMS and the most famous one. WordPress covers around 30% of websites available worldwide. Another one is Weebly which has become one of the favorite website builders among us. In this article, we'll talk about WordPress vs Weebly. You're going to see a decent comparison between these two site-building software.
So here we start,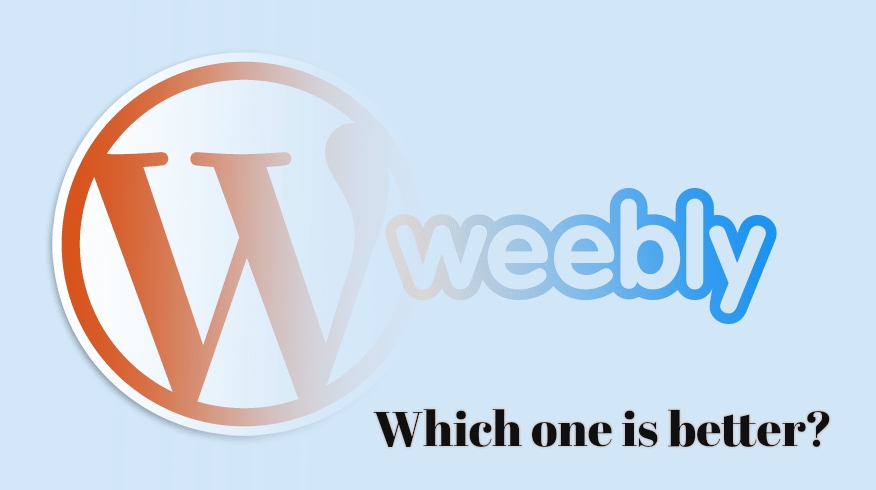 WordPress vs Weebly Comparison
Hosted and Self-hosted
This is the first round of WordPress vs Weebly. Weebly is completely a hosted service. When you build a website, it resides on the server owned by Weebly. You can't easily migrate from one host to another. On the other hand, you own the entire WordPress web building process. You can install WordPress on any hosting account. Weebly will have the authority of each and every web building tool but WordPress will give you complete independence to use your own tools. So, as you can see that Weebly is hosted and WordPress, on the other hand, is a self-hosted and flexible. You should choose WordPress for the higher range of flexibility. So, the winner of the first round is WordPress.
Features and Plugins
Weebly has a set of built-in tools and features with it. You can customize, edit and build your site with those built-in features. One big advantage of Weebly is, you don't need to download any extensions for further usage. However, there's a bigger problem! You can't add extra extensions ever! On the other side, WordPress has more than 30,000+ collections of free plugins and extensions. You can use any of them whenever you want. That's not all! You can develop your own WordPress plugin if you're a developer or you can hire a developer to do so. Looks like WordPress give you the wider range of using plugins and extensions. So, WordPress wins this second round too.
Design and Layout Choices
In terms of designs and layouts, Weebly gives its user complete flexibility. The most attractive part of Weebly is the drag and drop page builder. You can customize all the designs using the drag and drop feature quite easily. Weebly is a very beginner-friendly site builder. However, WordPress doesn't come with a built-in drag and drop feature. You need to install themes that include drag and drop feature. There are thousands of free and purchasable WordPress themes are available on the internet. So, Weebly is a step ahead of WordPress in this round. So, the winner of this round is Weebly.
Comparatively, WordPress has many themes and templates that can offer you better features such as drag and drop menu. But you need to install the theme first.
Online Business
Online business is playing a very crucial role right now. We now buy and sell goods through the internet. So, how convenient is it if you decide to make your online store with Weebly or WordPress? Weebly allows you to create your own online store. But it has very basic features with a limited range of works. You can't do a lot of customizations with them. Weebly also charges 3% transaction fees that can cost you more money with all the processes included. To remove your additional transaction fee, you need to upgrade your plan to the business plan which costs $25/month. WordPress, on the other hand, has some amazing and powerful E-Commerce plugin such as WooCommerce. WooCommerce doesn't require any kind of extra transaction fee. So, the winner of this round is again WordPress.
Data Flexibility
When it comes to data flexibility and data probability, Weebly allows you to download your site as a zip file that contains your HTML pages only. WordPress allows you to download the entire site data as an XML file. You can export your WordPress site data in many formats. You can also migrate your WordPress site to other platforms whenever you want. WordPress gives you better opportunities in terms of data probability. There are so many options you will have when you use WordPress. Now it's up to you which platform you're going to choose. But, WordPress finally wins this round too.
Final Words
Finally, we've got to learn a lot of things from this WordPress vs Weebly comparison article. As we can see that WordPress has better opportunities for the user all over the world. However, Weebly is not bad at all. If your site and your target are not wide-ranging, then Weebly is absolutely fine for you. But WordPress has better features and benefits that can make your website building a lot much easier and flexible. Hopefully, this article was helpful.